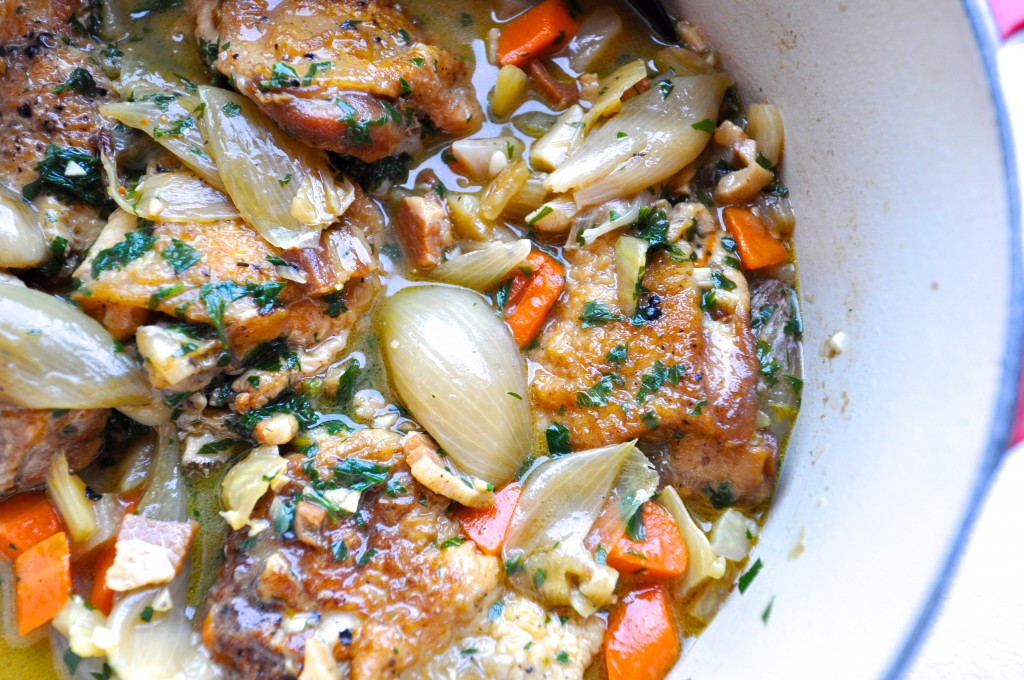 Afflicted as I am with a croaky throat, and a hefty dose of seasonal malaise, I have been seeking solace in a number of ways. I have a veritable pharmacy of drugs at my disposal, but most notably, I have been feeding myself substantial portions of soothing soups, comforting stews, oh and of chocolate (usually first thing in the morning when it feels most decadent).
One recent dish that did wonders to take the edge off  my flu-inspired self-pity, fatigue and aches and pains was a braised wonder of moist chicken thighs slow-cooked in white wine with plenty of sweet shallots. In addition to its buttery, subtly savory flavor when cooked down, shallots are packed with potent flu fighting agents. Less pungent than onions, although of the same family, and resembling garlic with its bulbous cloves, the shallot is a powerhouse of flavonoids, chemicals that function as antioxidants. Flavonoid-rich foods are just the thing to battle winter ill since they amplify the power of your vitamin C, work to prevent inflammation throughout the body and protects cells from damage.
Health benefits aside, this appetite-pleaser is just downright delicious and bound to perk up any bed-ridden invalid.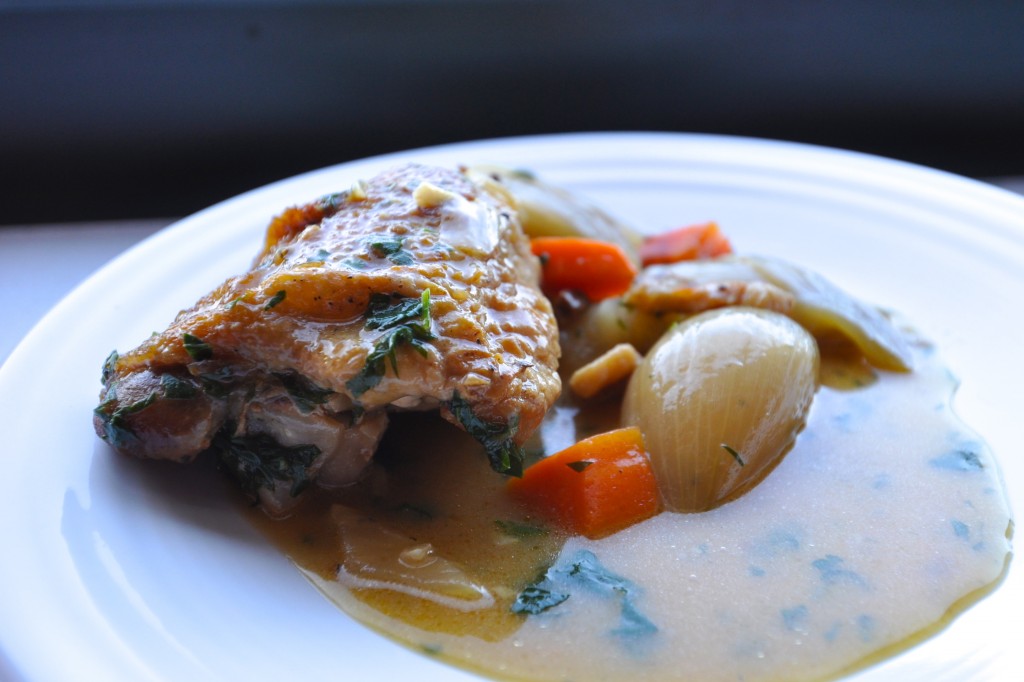 Chicken Braised with Shallots and White Wine
(Adapted from Fine Cooking)
Olive oil, as required
8 bone-in, skin-on chicken thighs
Salt and freshly ground black pepper
1/2 lb. thick cut sliced bacon or pancetta, diced
8 medium shallots, peeled and halved
2 large carrots, peeled, halved and sliced into crescents
1 small bulb fennel, trimmed, cored, and diced
2 cloves garlic, minced
Small handful sprigs of  fresh parsley
1 bay leaf
1/2 cups dry fruity white wine, I used Riesling
3 cups l chicken broth
1 Tbs apple cider vinegar
2 heaped Tbs creme fraiche
2 Tbs. chopped fresh parsley
Dry the chicken thighs well with paper towels and season all over with salt and pepper.  Heat 2 Tbs. of olive oil in a large Dutch oven over medium high heat. When very hot, place the chicken pieces, skin side down, in the pot in a single layer. Cook, without moving the chicken, until the skin is a deep, burnished golden brown about  8 to 10 minutes. Turn over the chicken and cook for a further  4 to 5 minutes until the underside is also golden. Transfer to a plate.
Pour off and discard any excess fat from the pot leaving behind about 1 Tbs.  Add the bacon or pancetta to the pot until  and cook until well browned all over, 5 to 8 minutes. Using a slotted spoon, transfer to a bowl lined with paper towels and leave to drain and crisp up.
Pour off and discard the fat.
Add 2 Tbs olive oil to the pot and when hot, add the shallots, carrots, and fennel. Cook, stirring every now and then scraping the bottom of the pot to loosen any stuck -on brown bits, until  the vegetables are tender and browned in places, about 6 to 8 minutes. Stir in the garlic and cook for a further 1 to 2 minutes.
Place the parsley springs and bay leaf in a piece of cheese cloth and tie up to form a small parcel, or tie up in a bundle using butcher's twine. Place the herb bundle or parcel to the pot, and pour in the wine and the chicken broth. Bring to the boil and simmer briskly. Return the chicken and the pancetta to the pot,pushing the chicken down so that it is covered by the broth as much as possible. Bring back to the boil, then reduce the heat to low, cover, and simmer very gently for 50 minutes to an hour until the chicken is falling off the bone tender.
Fish out the herbs and discard. Using a ladle, remove as much of the broth as you can from the pot and transfer to a small saucepan. Place the saucepan over high heat and simmer the broth briskly until reduced by half.  Lower the heat, and stir in the apple cider vinegar and creme fraiche. When the sauce is completely smooth, taste and season with salt and pepper then remove from the heat. Pour the sauce over the chicken and vegetables still in the pot, sprinkle over the chopped parsley and stir well. Serve with hot, lightly buttered wide egg noodles.